Our Events
First APEIR-MBDS Preliminary Meeting Joint Proposal "Reducing Biosecurity Threats from Infectious Diseases in Southeast Asia"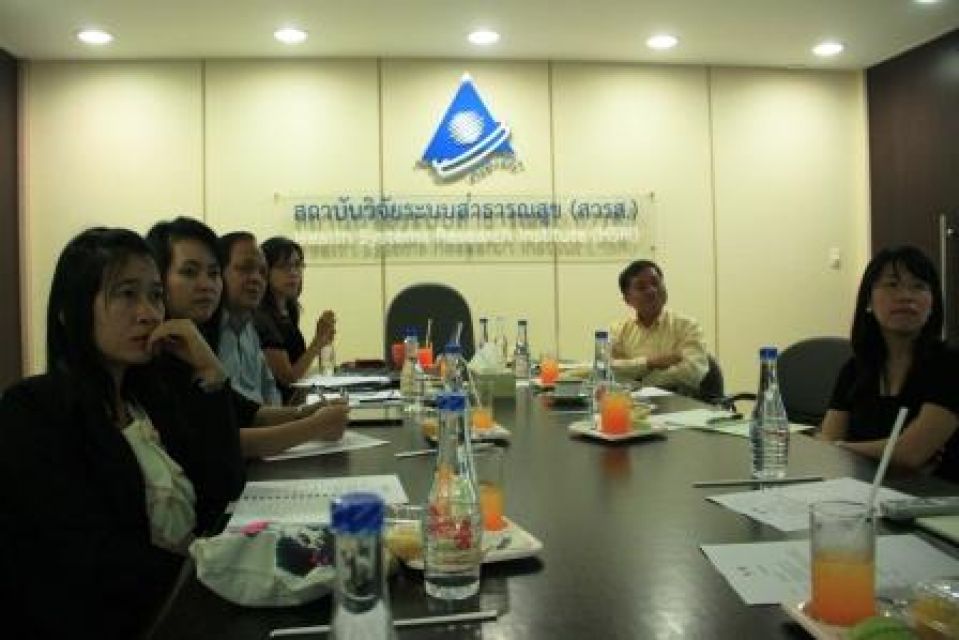 19 March 2014 Health Systems Research Institute



First APEIR-MBDS Preliminary Meeting
Joint Proposal "Reducing Biosecurity Threats from Infectious Diseases in Southeast Asia"
APEIR-HSRI hosted the first preliminary meeting for the APEIR-MBDS joint project. Attended by 11 participants from APEIR and MBDS, this meeting aimed to set up and formulate an implementation plan including the preparation of the inception workshop as well as identifying specific roles and responsibilities for APEIR-MBDS "working team" members.
This meeting was mainly discussed the coordinatoon and partnership of the networks, study site selection, working team and project coordinator, The 2nd Preliminary Meeting and Inception workshop and The budget flow and payment process from funder.
Coordination and partnership of the three networks
On the coordination and partnership, all networks agreed that the 3 networks should work together to complement each other. All networks will translate the concept plan into an operational plan. On the project operations will include 3 main components: (1) APEIR will lead research (2) MBDS will lead surveillance activity (3) ASEAN+3 FETN will lead human resource capacity building. APEIR and MBDS will support the research team and the disease surveillance team at the proposed cross border areas.
Study site selection
Based on the discussion, it was agreed to carry out the project in 3 cross border sites:
1. Site 1. Thailand-Laos-Vietnam (Mukdahan-Savanakhet-Quang Tri) for Influenza, Melioidosis and Salmonellosis
2. Site 2. China-Laos (Mengla- Luang Namtha) for Salmonellosis and Outbreak Response
3. Site 3. Thailand-Cambodia (Sakae- Banteay Meanchay) for Salmonellosis and Outbreak Response
In all sites will be established serially over the course of three months. Site 1 at Mukdaha-Savanakhet-Quang Tri will be established before the other two sites. Each site will be led by site coordinator from the MBDS network (who are already present at each site). The coordinators will work together with APEIR research members in each country (in terms of research part) and FETN Alumni on outbreak response.
Working Team and Project Coordinator
The "working team" will include APEIR: Dr. Prasit and APEIR CO; MBDS: Dr. Bounlay and MBDS secretariat and FETN ASEAN+3: Dr.Kumnuan and FETN CO, Dr. Pasakorn and Dr. Chakarat. The Project coordinator is in recrutment process, Project Coordinators from both networks are expected to start in April 2014 .
The Second Preliminary Meeting and Inception Workshop
The 2nd preliminary meeting will be held on 24-26 April 2014 in Mukdahan, Thailand and will be held in conjunction with the study site visits. in this meeting. The team will discuss with Mukdahan, Savannakhet and Quangtri teams during the trip. They will consider visiting project sites 2 and 3 after the first cross border site is implemented. This preliminary meeting and site visit will use the preliminary meeting funds from each network. The inception workshop is tentatively scheduled for 15-16 May 2014 in Bangkok. Further details on the meeting (e.g. agenda, invitees, document preparation, logistic etc) will be determined during the second preliminary meeting.
---
Back to view all events